Travel agency and destination wedding planner in Quebec
We help you plan your event in the sun down to the last detail. Our team of experienced professionals will be happy to assist you with this precious moment, from choosing your destination to preparing for your holiday, accompanying you before, during, and after the trip. According to your desires and budget, create the wedding of your dreams with us, and enchant your guests.
A beach in paradise, a sunset by the sea, a lush garden… Imagine a dream location for your wedding, and choose from our many destinations. A wedding in the south is the opportunity to make this day an even more special event that will leave an unforgettable memory for you and your guests. Instead of a traditional one-day gathering, take your loved ones on a real vacation, and fully celebrate your love in an idyllic location. Don't wait for the summer to mark your union; by choosing to have your wedding in the south, you can decide to leave at any time of year and escape the cold Québec winter to experience a magical moment.
Our teams have travelled to the most beautiful places in the sun, through the most prestigious resorts, from the Caribbean islands to Mexico, Jamaica, and Antigua. We've found unique and magnificent places for you capable of providing you with the best services for your wedding at prices that are among the lowest on the market. Selected with care, according to specific criteria, the chosen establishments have received rigorous training to give you an unforgettable experience on the occasion of this extraordinary moment.
Types of weddings in the south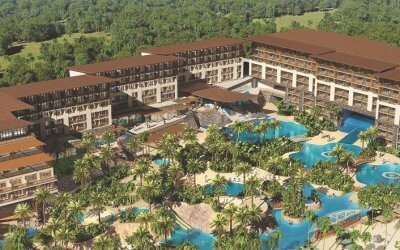 Now Natura Riviera Cancun Discover the brand new now Natura Riviera Cancun The brand new now Natura Riviera Cancun will open its doors on 1 December 2019. It will be a complex of local tropical contemporary style. The hotel is directly facing the beach and...
read more
Meet your wedding specialist