The fives azul beach
is a luxurious family hotel, perfect for a dream wedding.
This hotel is part of the Karisma hotel chain, winner of several awards such as the choice of travelers by Trip Advisor and the price of 4 diamonds, Triple A (AAA). You will understand that it is a gourmet hotel, you can even find in some restaurants the possibility of having a met and wine agreement. Your taste buds will be filled!
This complex is full of nice surprises. I spent 4 months in South East Asia and I can guarantee you that at Kho Thai restaurant you will eat one of the best Caribbean curry chicken! La Cantina is a truly charming, typically Mexican small bar where you can enjoy homemade cocktails made with love at the base of quality tequila.
This is a very interesting hotel for weddings, several ceremonial venues are available including the gazebo in the garden, the Sky Deck, the Sea Pier, the very original Waterfront Gazebo and of course The Beach. Imagine at sunset with your guests on the Sky Deck, only beautiful memories and beautiful photos.
Ideal for a honeymoon, you can enjoy a romantic dinner alone with your tender half directly under the gazebo in the middle of the water (Sea pier).
Hotel of choice for family holidays
And to celebrate your wedding with your family!
This hotel is exceptional for traveling with young children. You will have many facilities on site to facilitate and enhance your stay with your little one. The hotel puts at your disposal; Strollers, Bottle Sterilizers, Baby Bottle Warmers, Baby Baths, Baby Changing Tables, Bathrobes, Baby Monitors, Gerber Baby Food is available in all restaurants and room service. This is not fantastic, it will make your luggage lighter and you will not have the stress of forgetting something important for your baby.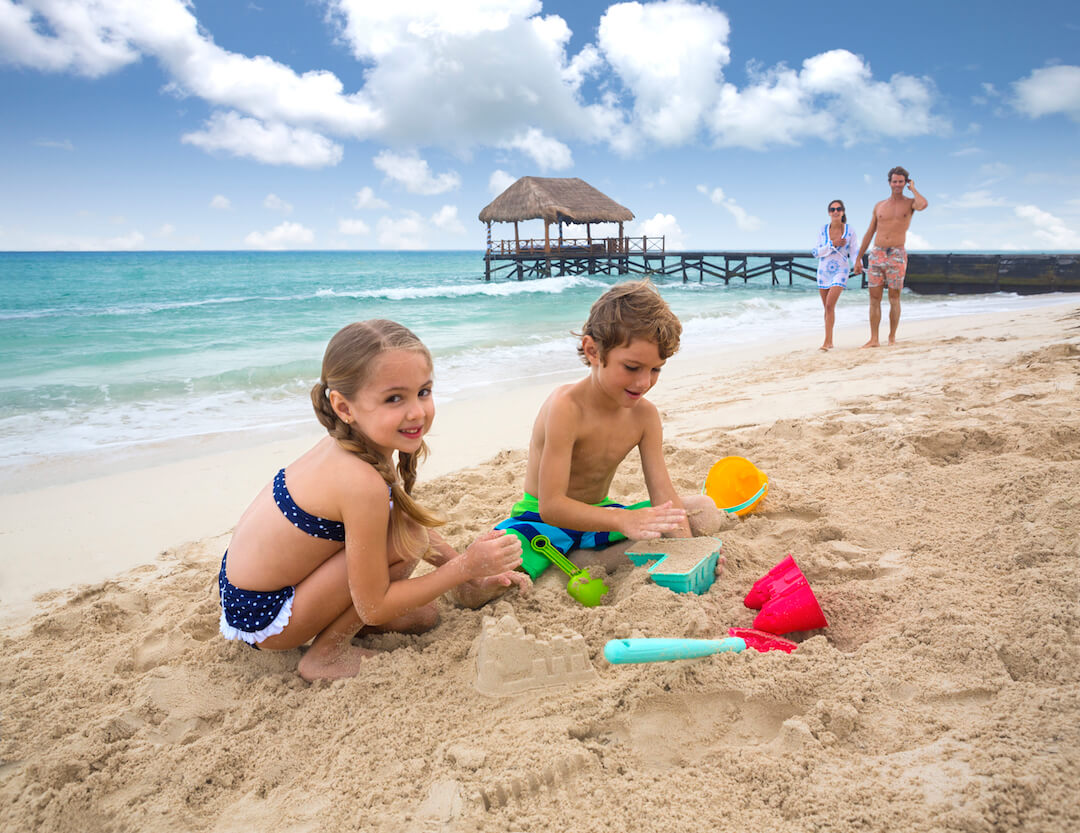 You will find on the site a large central pool facing the sea with a bar, for a more lively atmosphere and a magnificent view.
What I find interesting is that the rooms are divided into several small villas with 3 floors, it does not distort the landscape. The rooms are luxurious and beautiful, very relaxing with their modern decor. The central plaza is very interesting because it offers you the majority of restaurants and bars in one place in addition to being pretty.
It is a perfect hotel for all types of voyeurs whether in group, for a wedding, with family or in love. Everyone will find his account!
For more details and photos, clic here The fives at Azul Beach Playa Del Carmen
For more information or to book your wedding at this fabulous wedding hotel, contact us! Our are the Karisma Travel Agency in Quebec!