Combien coûte un mariage dans le sud
Quand se marier dans le sud, Ou se marier dans le sud ?
But how much? Or? When? Why? get married in the south
A wedding in Quebec lasts a day, while in the south it will last all week. Your trip is in a way your honeymoon. So you will save on costs. And then, it's one less task on your shoulders.
For you to see or would you like to make your ideal wedding. In the idyllic Caribbean or in the Caribbean, completely beautiful. The choices are infinite. Save time and money and get married in the south.
how much does a wedding cost in the south
Do you dream of saying your wedding wishes in a tropical paradise setting? In addition to being possible, it is achievable. The price of a wedding in Quebec is usually estimated at $ 15,000 or more. While the price of a wedding in the south will cost you less than $ 6,000. It all depends on the wedding package of the hotel you have chosen and the destination. Some hotel chains offer you their wedding package for free, with a minimum number of rooms reserved.
Generally, the ceremony, the celebration and the party take place in different places. In the south, everything takes place in the same place. In addition, you have the setting of an exotic and paradisiac environment. In Quebec, the duration of a marriage is one day minimum. A wedding in the south lasts a whole week and can even continue on a honeymoon the following week or even started on your arrival. Usually, for a honeymoon (after the wedding day) in Quebec, this requires additional organization and an additional budget is required. Nothing stops you from staying a week longer, letting your guests go and staying longer for more privacy.
There are some resorts that offer you their free wedding package. By cons, it goes without saying, some restrictions apply and know that it is not all complexes that offer this type of package. The free wedding package offered by the hotels is often quite modest, but offers the base (decor, flower, cake, location, music). Some hotels stand out from others and offer great packages even if it is free. Sometimes it's not too expensive to take a package with more inclusions and pay a little more. It's up to you to see what you like according to your needs, requirements and budget.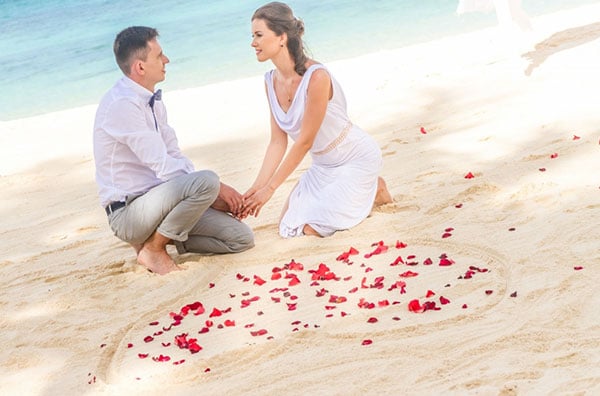 When does my destination weddings?
In Canada, with changing temperatures, you have to celebrate your wedding in the summer or fall. Tell yourself that getting married at your destination is all year long. So if you like a date and you really want it, you do not need to limit yourself to 5 months. You have a special date, go ask us. All we have to do is check with the hotel if your date is available. Your wedding can be done all year long.
The general rule in the Caribbean is to arrive at least 72 hours before your ceremony. For Jamaica, it's 48 hours. Simply because you lose the day of your arrival and the next day you meet the coordinator of the hotel. This will tell you where you have chosen for your ceremony and will show you the other possible places. You will have the chance to choose and even change some aspect of your wedding package directly
But where to get married in the south?
You can choose a wedding on the beach, under a gazebo and some hotels even offer beautiful gardens. It is also possible to get married on the roof of a hotel or on a terrace or on a dock. Contact us for suggestions.
As for hotels, we prioritize high-end hotels or specialized wedding destination. So your wedding will be a success and your trip will be unforgettable.
Why get married in the south?
For several reasons. To begin with the organization. A conventional marriage in Quebec requires a lot of preparation, involvement and time. Sometimes you even create stress. While a wedding in the south, experts will look after you and mentor you. While you have your head alone.
Sometimes the guest list is long, including acquaintances and friends of the family. With a wedding in the south, your wedding will be more intimate and your guest list will be much more pleasant and close to you. A wedding requires a lot of preparation and your time. Especially during the days preceding the ceremony. Let the wedding coordinators take care of you in the south. Much less stress and more time for you.
Simplifiez-vous la vie, et laissez nous nous occuper de vous !
Mais Combien? Où? Quand? Pourquoi? se marier dans le sud
Un mariage au Québec dure une journée, alors que dans le sud il durera toute la semaine. Votre voyage est en quelque sorte votre lune de miel. Donc vous économiserez sur des couts. Et puis, c'est une tâche de moins sur vos épaules.
À vous de voir ou aimeriez-vous réaliser votre mariage idéal. Dans le cadre idyllique des Caraïbes ou encore dans les Antilles, complètement magnifique. Les choix sont infinis. Économiser temps et argent et mariez-vous dans le sud.
Combien coûte un Mariage dans le sud?
Vous rêvez de dire vos vœux de mariage dans un décor tropical paradisiaque? En plus d'être possible, c'est réalisable. Le prix d'un mariage au Québec est habituellement estimé à 15 000$ ou plus. Tandis que le prix d'un mariage dans le sud ne vous en coûtera moins de 6000$. Tout dépend du forfait mariage de l'hôtel que vous aurez choisi et de la destination. Certaines chaines hôtelières vous offrent leur forfait mariage gratuitement, avec un nombre de chambre réservées minimum.
Généralement, la cérémonie, la célébration et le party se déroule dans des endroits différents. Dans le sud, tout se déroule au même endroit. De plus, vous avez le cadre d'un environnement exotique et paradisiaque. Au Québec, la durée d'un mariage est d'une journée au minimum. Un mariage dans le sud dure toute une semaine et peut même se poursuivre en lune de miel la semaine suivante ou même commencé dès votre arrivée. Habituellement, pour une lune de miel (après le jour du mariage) au Québec, cela demande de l'organisation supplémentaire et un budget additionnel est requis. Rien ne vous empêche de rester une semaine de plus,  laisser partir vos invités et rester plus longtemps pour plus d'intimité.
Il existe certains complexes qui vous offrent leur forfait mariage gratuit. Par contre, cela va sans dire, certaines restrictions s'appliquent et sachez que ce n'est pas tous les complexes qui offrent ce type de forfait. Le forfait mariage gratuit offert par les hôtels est souvent assez modeste, mais offre la base (Décor, fleur, gateau,emplacement, musique). Quelques hôtels se démarquent des autres et offrent de super forfait et ce même s'il est gratuit. Parfois, ce n'est pas énormément dispendieux de prendre un forfait avec plus d'inclusions et de payer un peu plus. À vous de voir ce qu'il vous plait selon vos besoins, exigences et budget.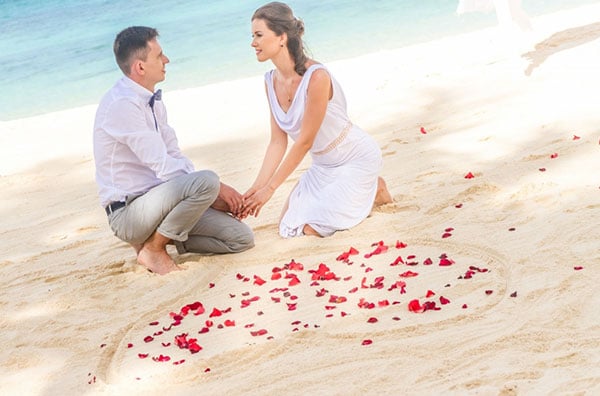 Quand se marier dans le sud?
Au Québec avec les températures changeantes, vous devez célébrer votre mariage durant l'été ou l'automne. Dites-vous que se marier à destination, c'est l'année durant. Donc si une date vous plait et que vous y tenez vraiment, pas besoin de vous limiter à 5 mois. Vous avez une date spéciale, allez-y demander nous. Il nous suffit de vérifier auprès de l'hôtel si votre date est diponible. Votre mariage peut se faire toute l'année durant.
La règle générale dans les Caraibes, il faut arriver à destination au moins 72 heures avant votre cérémonie. Pour la Jamaïque, c'est 48 heures. Tout simplement car vous perdez la journée de votre arrivé et dès le lendemain vous rencontrez le/la coordinateur/trice de l'hôtel. Celuis-ci vous indiquera l'endroit que vous avez choisi pour votre cérémonie et vous montrera les autres endroits possibles. Vous aurez la chance de choisir et même de changer certain aspect de votre forfait mariage directement sur place.
Mais où se marier dans le sud?
Vous pouvez choisir un mariage sur la plage, sous un gazebo et certains hôtels offrent même de magnifiques jardins. Il est aussi possible de se marier sur le toit d'un hôtel ou sur une terrasse ou bien sur un quai. Contactez-nous pour des suggestions.
Pour ce qui est des hôtels, nous priorisons les hôtels haut de gamme ou spécialisés en mariage à destination. Ainsi votre mariage sera une réussite et votre voyage sera inoubliable.
Pourquoi se marier dans le sud?
Pour plusieurs raisons. À commencer avec l'organisation. Un mariage conventionnel au Québec exige énormément de préparation, d'implication et de temps. Parfois même vous créer du stress. Tandis qu'un mariage dans le sud, des experts s'occuperont de vous et vous encadreront. Pendant que vous aurez la tête tranquille.
Parfois, la liste d'invitée est longue, dont des connaissances et les amis de la famille. Avec un mariage dans le sud, votre mariage sera plus intime et votre liste d'invitée se verra beaucoup plus plaisante et proche de vous. Un mariage demande énormément de préparation et de votre temps. Particulièrement pendant les jours précédant la cérémonie. Laissez les coordinateurs de mariage s'occuper de vous dans le sud. Beaucoup moins de stress et plus de temps pour vous.
Simplifiez-vous la vie, et laissez nous nous occuper de vous !